Introduction
News regarding the incoming 12th Generation Alder Lake chips from Intel has been strong so far, with Benchleaks unveiling two benchmark results that show the new CPU handling After Effects. The 12-900K will be the flagship processor of this new lineup from Intel.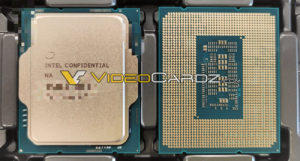 Image courtesy of videocardz.com
i9-12900K Specs
The Intel Core i9-12900K will feature eight Golden Cove cores as well as eight Gracemont cores. The Golden Cove cores will feature Hyper-Threading. An unlocked multiplier for overlocking will also be included in the processor, as well as 30MB of L3 cache. The leak is currently showing 5.3GHz dual-core boost and 5GHz all-core boost (on the Golden Cove cores) and 3.9GHz quad-core boost as well as 3.7GHz all-core boost on the Gracemont cores.
Specs for the Core i9-11990K are similar, with eight Cypress Cove cores (and Hyper-Threading as well) as well as 16MB L3 cache. 3.5GHz base clock and 5.3GHz boost clock are also included.
Thoughts
The i9-12900K system that was used for the benchmarks included an ASUS ROG Strix Z690-E motherboard and RTX 3090. 64GB of DDR5-4800 memory was also inside the system. From those specs, I do not see the hardware providing a bottleneck for the CPU. It looks like these numbers will hold true in the production release for most consumers.
Check out our other blog post for information on the other CPUs coming with the Alder Lake release.
Please refer to our blog for anything else regarding PC Swaps, where we have answers to a lot of frequently asked questions as well as guides for getting your account set up. Do not hesitate to email us at support@pcswaps.com with any other issues. You can also message us on socials, and we will get back to you as soon as possible. If you have any other issues there are multiple platforms you can reach out to us on!
Do you have any comments or concerns about the platform? Please reach out to us. We would love to hear your thoughts and feedback and a buyer or seller on our platform. Also be sure to check out our Discord where we have a strong community. We talk about current tech news as well as take part in Among Us and other game nights! We are always looking for more people to join the platform as well, so please tell your friends! As always thank you for being a part of this community.