Overview
Over this past week, the specs of Intel's Alder Lake CPU lineup (12th generation) have leaked. Note that these are just leaks at this time. We will still analyze the specs provided in this article, and provide insight as to how Intel is positioning these CPUs over previous generations.
Leak Origin
The leaks come from Zhihu, a Chinese forum. It is stated that the announcement will most likely be in the second half of 2021 from Intel. These CPUs are stated to be more power efficient than their predecessors. Intel may be positioning these as more power efficient and a better choice for consumers. They may also be positioning it in a way that will allow for more powerful processors in the future. Said processors would most likely utilize the same power draw as previous gen CPUs. Nevertheless, this is good news for consumers. Lower power draw will allow for higher draw GPUs and other additions.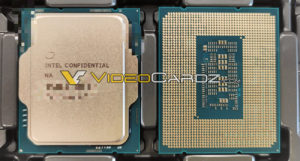 Breakdown
There will be three CPUs released under the Alder Lake generation, at least at first. They will feature a hybrid architecture, using Golden Cove high-performance cores as well as Gracemont power-saving cores. It is also expected that these microprocessors will be fabricated using the 10nm Enhanced SuperFin process, developed by Intel. These microprocessors will also utilize the LGA 1700 socket.
i5-12600K – 4.9GHz Performance Boost, 3.6GHz Efficiency Boost, 6 performance cores with 12 threads, 4 efficiency cores with 4 threads, 20MB L3 Cache.
i7-12700K – 5.0GHz Performance Boost, 3.8GHz Efficiency Boost, 8 performance cores with 16 threads, 4 efficiency cores with 4 threads, 25MB L3 Cache
i9-12900K – 5.3GHz Performance Boost, 3.9GHz Efficiency Boost, 8 performance cores with 16 threads, 8 efficiency cores with 8 threads, 30MB L3 Cache
It is interesting that Intel is targeting higher clock speeds on their Efficiency cores, highlighting that their hybrid approach is different from what Apple is doing for instance. Apple, for comparison, has a max of 2GHz clock speed on their high-efficiency cores on their M1 chip.
Final Thoughts
I am very much looking forward to the announcement of these CPUs. Intel is taking an interesting approach with the Alder Lake CPU, with placing more emphasis on their Efficiency cores than competitors are. The blog will be update as any news is released, such as the announcement day and time of this new generation of CPUs by Intel.
Please refer to our blog for anything else regarding PC Swaps, where we have answers to a lot of frequently asked questions as well as guides for getting your account set up. Do not hesitate to email us at support@pcswaps.com with any other issues. You can also message us on socials, and we will get back to you as soon as possible. If you have any other issues there are multiple platforms you can reach out to us on!
Do you have any comments or concerns about the platform? Please reach out to us, we would love to hear your thoughts and feedback and a buyer or seller on our platform. Also be sure to check out our Discord where we have a strong community. We talk about current tech news as well as take part in Among Us and other game nights! We are always looking for more people to join the platform as well, so please tell your friends! As always thank you for being a part of this community.