Introduction
Windows 11 will be released on October 25th, 2021. This new operating system from Microsoft will feature many updates to its visual appearance, as well as an updated user experience. One of the most notable changes is to the taskbar, which will now be centered by default instead of the left side as it was in Windows 10.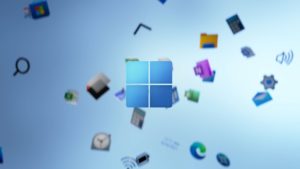 Courtesy of, Microsoft Windows.
Windows 11 Release Info
The official release is on the 5th of October. However, the company has been rolling out the OS for the past few months. They have released early builds and monitoring results. After being announced, many were excited for the new changes but also nervous with the new requirements.
Secure Boot is a new feature being included, which will prevent malicious software from loading when the OS starts up. A TPM (trusted platform module) is required for systems running Windows 11, and it will allow an integrated cryptographic key to be utilized. Some older hardware will be excluded from the new update, requiring a 64 bit architecture processor that is eighth-generation or newer for Intel CPUs and Ryzen 3 or newer for AMD (via ComputerWorld). 4GB of RAM or higher will also be required, and 64 GB of storage. The TPM was a shock to some in the DIY world. Many motherboards did not have it installed but supported it. The good news is, a TPM 2.0 (which is required) costing under $15 before the announcement. While prices rose due to the requirement, they will likely fall and continue to as more manufacturers enter the sector.
Latest News
Windows insiders now have access to the build that is going public in just under two weeks, which is known as build 22000.194 which contains the final stages of development for the OS. It does not appear that there will be any other major changes made, with small bug fixes coming in the immediate future. Feel free to check out Windows 11 today, or look forward to the official release day.
In the end, please refer to our blog for anything else regarding PC Swaps, where we have answers to a lot of frequently asked questions as well as guides for getting your account set up. Secondly, please do not hesitate to email us at support@pcswaps.com with any other issues. Thirdly, you can also message us on socials, and we will get back to you as soon as possible. Moreover, if you have any other issues there are multiple platforms you can reach out to us on!
Do you have any comments or concerns about the platform? Please reach out to us. We would love to hear your thoughts and feedback and a buyer or seller on our platform. Also, be sure to check out our Discord where we have a strong community. We talk about current tech news as well as take part in Among Us and other game nights! We are always looking for more people to join the platform as well, so please tell your friends! As always thank you for being a part of this community.