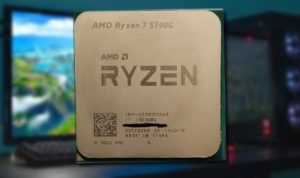 Introduction
In this week's blog post we will be covering AMD's announcement of their 5000 series APUs for desktop PCs. These are 7nm chips, and initial performance benchmarks of the 5700G to not disappoint. The 5700G has the fastest integrated graphics ever, and can be both a cost saver as well as another option verses getting a discrete graphics card. Two other Zen 3 (7nm) chips will be released, including the 5600 and 5300. Both will come in G and GE models.
Specs
The Ryzen 7 5700G will feature 8 cores and 16 threads, at a base clock of 3.8GHz. The boost frequency will be 4.6GHz, and the TDP (thermal design power) is 65W. The L3 cache is 16MB, and the integrated graphics is Radeon Vega 8. The GPU frequency is 2000 MHz as well.
The new APUs will feature many of the same specs as its 5000 series CPU counterparts, such as the 5600G having the same cores and threads as the 5600X. The L3 cache is lower (16 as compared to 32 across all models) but the TDP is going to run the same (65W).
Release Date & Price
At this time these APUs are being built for pre-built systems for OEMs, but they will be available for retail purchase later this year.
The 5700G will be released (for retail) on August 5th, 2021 at a price of $359 USD. With the current shortage of graphics cards and related products, this APU (Accelerated Processing Unit) will be a nice tradeoff from getting a CPU without integrated graphics and a discrete graphics card! The slightly less powerful 5600G will be available August 5th as well for $259.
Final Thoughts
In conclusion, AMD's announcement of the 5000 series APUs is a major leap up from the previous generation, and is giving discrete graphics cards a run for their money. Therefore, we may see OEMs use this chip more instead of installing a discrete graphics card. As it is the fastest integrated graphics to date it could be good for budget builds as well.
Over time the price of graphics cards will continue to decrease, and in time may make a purchase of the 5700G less cost effective. It will most likely prove worthwhile for OEMs in the future as the previous generation APU was well received.
Please refer to our blog for anything else regarding PC Swaps, where we have answers to a lot of frequently asked questions as well as guides for getting your account set up. Do not hesitate to email us at support@pcswaps.com with any other issues. You can also message us on socials, and we will get back to you as soon as possible. If you have any other issues there are multiple platforms you can reach out to us on!
Do you have any comments or concerns about the platform? Please reach out to us, we would love to hear your thoughts and feedback and a buyer or seller on our platform. Also be sure to check out our Discord where we have a strong community. We talk about current tech news as well as take part in Among Us and other game nights! We are always looking for more people to join the platform as well, so please tell your friends! As always thank you for being a part of this community.