Introduction
It's official. The latest set of Tesla Model Y upgrades brings some very interesting new features and updates, including but not limited to Tesla changing the internal components to feature an AMD Ryzen solution instead of an Intel chip, which is what the Model Y was previously manufactured with. Results have appeared to be positive in terms of speed increases of the internals of the car, and so far is showing to be a positive move for the electric car company.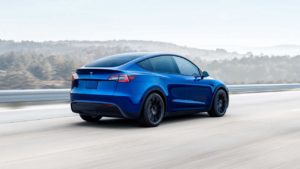 Model Y Updates
Although it is not clear what the actual processor is that AMD is producing for Tesla, it has similarities to the Model S Plaid game console. Including the Model Y, this will be the second product produced by AMD for the company. Now, only the Model 3 is left with internal components from Intel. Early testing showed a 2x speed improvement of loading time of dashboard app loading, and some reports showing a 4x improvement over the Intel counterpart for certain tasks.
Conclusion
Overall, this shift of the electronic car company utilizing chips from team red may come to reveal a trend where other automakers do the same. External factors may impact this decision, such as ongoing supply-chain issues and problems with semiconductor manufacturing and production in general. If the US invests in more local semiconductor production, we may see other companies join the competitive fight and battle against AMD as well as Intel. If Intel ramps up this sector they may see improvements, but at the moment AMD's product is appearing to be outperforming its competitor.
In the end, please refer to our blog for anything else regarding PC Swaps, where we have answers to a lot of frequently asked questions as well as guides for getting your account set up. Secondly, please do not hesitate to email us at support@pcswaps.com with any other issues. Thirdly, you can also message us on socials, and we will get back to you as soon as possible. Moreover, if you have any other issues there are multiple platforms you can reach out to us on!
Do you have any comments or concerns about the platform? Please reach out to us. We would love to hear your thoughts and feedback and a buyer or seller on our platform. Also, be sure to check out our Discord where we have a strong community. We talk about current tech news as well as take part in Among Us and other game nights! We are always looking for more people to join the platform as well, so please tell your friends! As always thank you for being a part of this community.