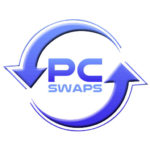 Uploading an avatar to your PC Swaps account is very easy.
Hover over the avatar at the top right of the website, and click Settings.
Under My Account Settings, there is an avatar (grey default if you have never uploaded one before) to the right with a blue border and the words "Edit" near the bottom of it.
Click on the avatar with the words "Preview" in it, and select an image on your computer. From there, you should be able to preview what the avatar will look like.
Click save, and you're good to go!
From this point, you should see the avatar at the top right of the website. If for some reason it is not showing up, do not hesitate to reach out to us via the support chat on the website or at support@pcswaps.com. Also check out our blog for more information on website features.
Do you have any comments or concerns about the platform? Please reach out to us, we would love to hear your thoughts and feedback and a buyer or seller on our platform. Also be sure to check out our Discord where we have a strong community. We talk about current tech news as well as take part in Among Us and other game nights! We are always looking for more people to join the platform as well, so please tell your friends! As always thank you for being a part of this community.